I have decided to be quite ambitious for June just because it is the last month of the quarter for the Finish A Long. I have already finished a few things on my list but I would still like to get a couple more things done. I really want to wipe out my UFO list in 2013. I have so many things I want to make and I have been very good about not starting anything new….boy that has been difficult!!!!
Here is my list for June:
last block for Christmas BOM

start quilting Christmas BOM – QAYG style
Finish tying & bind duckie quilt
Toes in the Sand BOM
MSBee blocks
Sugar Block Club block
Finish quilting Revamp
Tute for FAL – write tutorial & stitch another
Mystery quilt blocks – decide layout & stitch together
Season By Hand – something???
This is doable if I stay focused!! It is summer which makes it difficult since I like to float in the pool and I have to maintain the yard. BUT we will see. I do enjoy being in my sewing room. I wish I enjoyed hand work more because I could sit by the pool with my feet in it and stitch. It is difficult to stitch binding while sitting in the sun…LOL it gets a little hot!
Oh ….. I forgot….When I posted my finishes for May, there was one that wasn't on the list. If you follow me on Instagram (@gapquilter) then you have already seen it. But for those of you that don't, I thought I would share it. I made myself a Sheldon Cooper (Big Bang Theory), Flash shirt…please don't play that horrible song, Hadley!
Here is Sheldon Cooper (Big Bang Theory) wearing his – the one I copied from: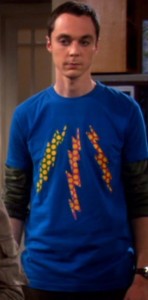 You can buy the shirt but I thought they were a  bit pricey and mine only cost me $3.50 since I am a fabric hoarder lover. I want to make this one next:
Well, here we are at the end of the post which means it is time for another picture from the chronicles of my life….hehehe. I have already shared one awful picture of me today, so we won't go there. How about a picture of my adopted daughter and her family. She has four boys and is a spectacular mother. They live in Atlanta and recently got remarried (long story there). You may remember we went to the wedding. N.E.Way….here they are:
Well, in the words of Porky Pig….That's all Folks! Once again, linking up with