Today I am going to rattle on about all kinds of "stuff". The online Urban Dictionary defines stuff as "everything you can think of". Well, I'm not going that far but I do plan on covering quite a plethora of things.
Let's start with a party announcement! I have bragged on my online friend, Sarah of Narcoleptic in a Cupboard, before. And for just a minute I am only speaking to those of you that know and/or follow her/her blog. I am planning a baby shower for her. Oh yeah, did I forget to mention she is preggers? YEP!! She is with bean (click and read all about bean). N.E.Way….
In case you missed the announcement on Sarah's blog, Susan and I planning an Online Baby Shower for her. There is much more detail on Sarah's blog if you need it. BUT the jest of it is this….until the day of the event (sometime in November) – we will meet & chat in Flickr. The day of the event we will hold a TweetChat!
The FlickrGroup is private but you can request access via Flickr or by emailing me. I hope to see you there!!!
Let's see, where to now? How about a picture of Callee wearing a shirt I made her? I love this shirt! I blogged about it at the end of July but this is the first I have seen of her in it…..
Her mom likes the shirt and the way it fits so much she has requested more. So I am in search of some fabric for that. Which leads me to some recent fabric shopping. I simply need to brag about a couple shops!
Let me prerequisite this next section by saying all opinions are mine! I have no sponsors – not because I don't want any but more because I am not sure I understand them. I mean I understand how they work for a blogger who designs quilt patterns or clothing patterns but for someone like me? How would that work? I have my ideas but never known a shop owner (in the US anyway) well enough to make that happen. N.E.Way….
Back to my fabric shopping….let 's recall my #swoon2013 quilt I have been working on. It contains all of Lori Holt's lines. Since she recently came out with a new line, Gracie Girl, I needed to obtain some of it so that I could ensure all lines are included. Normally I would simply go to Fat Quarter Shop since that is my "go to" shop. BUT lately I have been on a "save money" kick (I'll explain this in a minute) so instead I went on a search to see what I could come up with.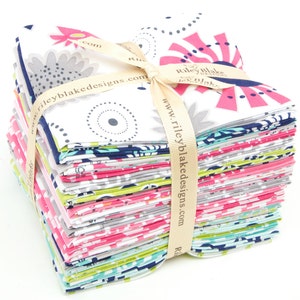 Low and behold a quick search lead me to Fanciful Fabrics! Let me just say, she has some amazing prices. Seriously, I saved almost $20 on this FQ bundle. While that is substantial I was still hesitant. Hesitant because sometimes when things are cheaper they are (a) not what they appear or (b) slow to arrive. But I decided it was significant enough to take my chances.
Let me just say, I was NOT disappointed!!! I got my package SUPER FAST!! I immediately sent the owner an email praising her prices and her super fast shipping. She was ever so nice!! While not my story to tell, she has a very interesting and honorable day job! When referencing the prices here is what she said:
" I think that fabric is too expensive, so I try to keep prices lower so that people can enjoy this wonderful hobby but not break the bank, like I usually do. I cannot afford every print of every line, but maybe some day. 🙂 I do it because I enjoy it, not to get rich. LOL….."
I did a quick comparison of some other bundles. I found some that were almost 1/2 the price of other shops online, jelly rolls and fabric by the yard at 25% less than other online shops. And if that's not enough, she also has vintage items, notions, trims, buttons, handmade items and more. I think I'm in love!!!
I placed another order this past weekend. The wonderful Leanne is queen in our Modern Stitching Bee this month. She has asked for this block:
See those low volume QST? Well, she has requested directional fabric of some sort. I didn't have any – what better reason to shop? So I set out for a coupon code (it was a holiday weekend after all) and a shop with a smallish bundle of text prints (a void in my stash). I found this bundle: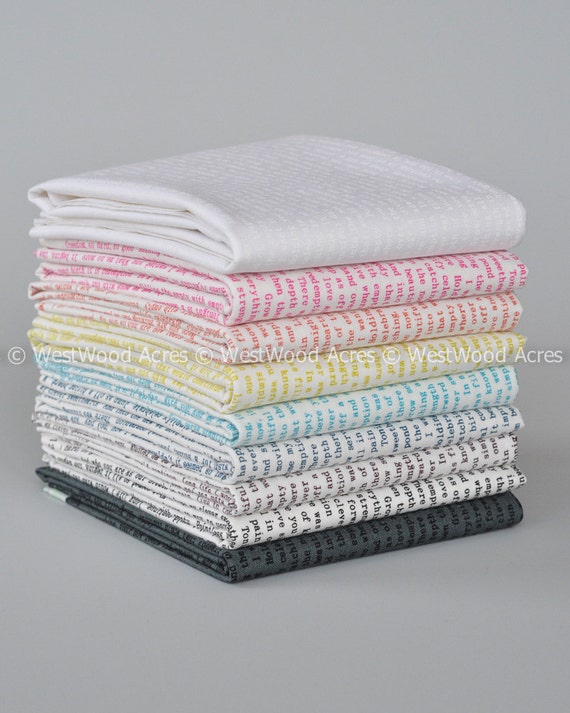 and I found it at WestWood Acres who also had a free shipping coupon code for the weekend. The part I am here to brag about….My bundle arrived today! I placed this order on Saturday (maybe Friday) regardless, she had to ship my order the same day! I love that!! And it was a decent price. Again, into saving money!
My favorite thing about this shop is the created bundles. I love it when shop owners make their own custom bundles. For example Amanda has the following listed: In The Navy, Tarnished Silver, Text the Rainbow, and Solid Bundles to match other lines. I am not linking to each bundle but you can find them all in her shop!! Again, there might be some love involved!!
In summary, this weekend I found 2 new shops I would highly recommend!

and

Now, about that saving money! I desperately want to FQRetreat….DESPERATELY!!!!! I have a plan to make that happen in 2014. Of the many things on that list to make it happen is selective fabric shopping. I also recently started making my own laundry soap, fabric softener, and many other household "chemicals". When I calculate the amount saved it goes in a special account along with a designated amount each month. I am mixing all this with a bunch of prayer….serious prayer!!!
I will end today with another picture of Callee in the same shirt. I like this picture more because it shows her attitude. One that, dare I say, she comes by honestly:
This picture is ME in a nutshell!!! And with that I end today's post! Have a great day!